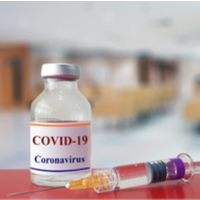 Doctors at University Hospital Southampton are trialling a new drug, which could be used to treat patients with COVID-19.
Developed by Synairgen, a UK-based biotech firm, the drug uses interferon beta, a protein, to fight the virus. Interferon beta is produced when the body is under attack. Chief executive of Synairgen, Richard Marsden, explained that the protein is part of the first line of defence, but Coronavirus seems to suppress its production, weakening immunity.
The new drug has been developed to target the airways in the presence of the virus, and teams are hoping that delivering a 'direct dose' of the protein will facilitate a stronger immune system response to defeat the virus. Experts are hopeful that the drug could make a positive difference, even in patients who have a weakened immune system.
Interferon beta is already used in medicines designed for patients with Multiple Sclerosis and trials conducted by Synairgen suggest that the protein can be beneficial for stimulating a stronger immune response in patients with asthma and other chronic respiratory conditions.
The trial for patients with COVID-19 involves 75 patients. The group is required to inhale the drug through a nebuliser so that it penetrates deep into the lungs. Kaye Flitney is one of the patients involved in the Southampton-based trial. Kaye, 67, said that she was terrified when she was tested for COVID-19 because her husband has heart problems, and she feared that if he got it, he would die. After her symptoms got worse, Kaye was taken to hospital for treatment. Initially, she struggled to sit up in bed, but she said that taking the drug wasn't unpleasant or uncomfortable.
Volunteers for the trial were recruited from ten hospitals in England, with half of the 75 participants given the drug and the other half provided with a placebo. Professor Tom Wilkins, from the University of Southampton, is hoping that the results show a much greater improvement in patients who have had the drug.
Preliminary results from the interferon beta trial are expected by the end of June, but even if the findings are positive, there will be further hurdles to overcome before it could be used routinely on COVID-19 patients. The drug is one of more than 100 possible treatments currently being trialled around the world.