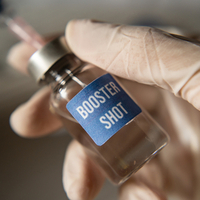 The spring Covid booster programme has launched in England.
From Monday 21st March, eligible individuals will be invited to have a fourth Covid vaccine. Up to 5 million people in England will be offered the booster dose. This will include over 75s, care home residents and vulnerable people in younger age groups, including children with compromised immunity.
The first invites for the fourth dose will be sent out this week amid rising case numbers across the UK. The latest statistics from the Office for National Statistics (ONS) show that 1 in 20 people in England would test positive for Covid. There has been a substantial increase in infection rates in the last few weeks due to the subvariant Omicron BA.2.
Waning immunity could be a factor in rising infection rates, particularly among older people, who are likely to have had their first booster dose in the autumn.
Vaccine advisers recommended a fourth dose for priority groups to boost immunity and enhance protection. Sajid Javid, health secretary, urged those who are contacted by the NHS to come forward for their vaccine. NHS staff will be visiting care homes to provide booster doses and others who are eligible for the booster will be able to make appointments at vaccine hubs in their local area.
The spring booster programme is already underway in Scotland and Wales and vaccines will be available in Northern Ireland during April and May.
Adults who are eligible for the fourth dose will be given a Pfizer or Moderna vaccine and children who are invited for a second booster will be given a Pfizer jab.
Amanda Pritchard, NHS chief executive, said that the NHS is ready to "rise again to the next challenge" and administer millions of vaccines in the weeks to come. Millions have already been protected by the vaccination programme and the next phase of the rollout will offer an additional immunity boost.
For more news please click here