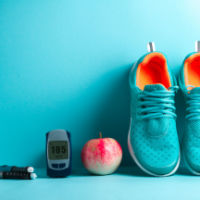 A small trial has suggested that short 'activity snacks' could be beneficial for those who suffer from type 1 diabetes.
Researchers found that taking short, 3-minute breaks to walk around every 30 minutes helped to reduce blood sugar levels in those with type 1 diabetes. These brief breaks are known as activity snacks.
Type 1 diabetes affects around 400,000 people in the UK. It occurs when the body is unable to control blood glucose levels as a result of the immune system attacking the cells in the pancreas, which produce insulin. The pancreas cannot produce insulin, meaning that blood sugar levels spike. People who have type 1 diabetes usually require medication and must monitor their blood glucose levels very carefully.
A trial comprising 32 people with type 1 diabetes found that taking breaks to go for a 3-minute walk every 30 minutes improved blood sugar levels. The study showed that blood glucose levels decreased over a 7-hour period when individuals took breaks during the day to stretch their legs.
Director of research at Diabetes UK, Dr Elizabeth Robertson, said that it can be challenging and exhausting for people who have type 1 diabetes to manage their blood sugar levels every day. This trial, which was funded by Diabetes UK, shows that making simple changes to their daily routine can benefit diabetes sufferers. Taking a break from the desk to go for a walk while making a phone call, for example, can help to reduce blood glucose levels with minimal impact on the individual's day or schedule. This is a practical, accessible and affordable way to enhance quality of life and reduce risks.
Type 1 diabetes is not linked to lifestyle factors like type 2 diabetes and it is much less common. High blood sugar can be dangerous both in the short and long term. If type 1 diabetes is not managed carefully, it can elevate the risk of eye problems, conditions that affect the kidneys and heart attacks.
Dr Matthew Campbell, from the University of Sunderland, led the research team. He said that he was shocked by the extent of the changes in blood sugar levels achieved by such short bursts of low-intensity exercise and added that this simple approach could make a big difference to many people living with type 1 diabetes.
The results of the trial revealed that taking short walking breaks every 30 minutes for 7 hours reduced blood sugar levels to an average of 6.9mmol/L compared to 8.2mmol/L in the group that sat continuously during the 7-hour period.
For more news please click here