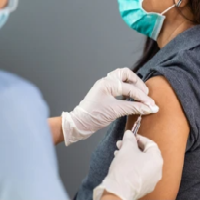 The UK has become the first country to approve a new booster vaccine, which targets both the original variant and the Omicron strain of Covid-19.
The vaccine, which was developed by Moderna, should be available in time for the UK's autumn booster rollout. Moderna has produced a revamped booster vaccine to offer additional protection against the Omicron variant.
The original vaccines using during previous rollouts were developed at high speed during the early stages of the pandemic to protect against the first variant of the virus identified in Wuhan. Since then, the virus has mutated significantly, with several variants of concern identified by scientists and public health experts across the world. Every time the virus mutates, there is a risk that it could duck and dive the protective features of the initial vaccine. Some variants, including the Omicron form, spread more rapidly due to increased ease of transmission.
Moderna will make the new vaccine available in the coming weeks, meaning that it could be used this autumn in the UK as part of the NHS booster scheme. The exact dates have not yet been revealed for the launch of the next phase of booster vaccination but the government has confirmed that all over 50s will be invited for a booster dose. Other priority groups are likely to be called in the run-up to winter.
Dr June Raine, chief executive of the Medicines and Healthcare Regulatory Agency (MHRA), the body, which approved the Moderna vaccine, said that the new "bivalent vaccine gives us a sharpened tool in our armoury to help protect us against this disease as the virus continues to evolve."
Tests carried out on 437 individuals showed that the Moderna booster was both safe and effective. The new vaccine offered better protection against more recent variants. During trials, the levels of antibodies that were able to disarm Omicron BA.1, the original Omicron variant, were 8 times higher than for the original Moderna Covid-19 vaccine. Levels of protection were also significantly higher against newer subvariants, including Omicron BA.4 and BA.5. These strains caused the most recent spikes in case numbers during June and July.
The chief executive of Moderna, Stéphane Bancel, said that he was "delighted" with the news, adding that "the bivalent vaccine has an important role to play in protecting people in the UK from Covid-19 as we enter the winter months."
For more news please click here