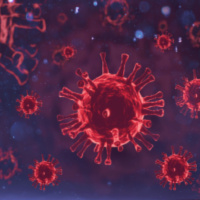 Covid infection rates are continuing to drop in the UK, according to the Office for National Statistics.
The most recent data suggests that 1 in 60 people in England would test positive for the virus in the week ending May 21st. This equates to around 1 million active cases, which is a similar rate to the start of December 2021. Infection rates fell in England, Wales and Northern Ireland and were unchanged in Scotland.
Despite the positive news, the ONS is monitoring the data closely, as recent declines could be ending. There has been a fall in infection rates in most age groups, but the latest figures show that infections in those aged 25-34 have plateaued. It is also not clear whether infection rates are falling in some regions of England, including Yorkshire and the Humber, the South East, the West Midlands and the North East.
The BA.2 strain of the Omicron variant remains dominant, but UK health officials have recently named two other Omicron subvariants, BA.4 and BA.5, as 'variants of concern.'
The latest round of random household testing carried out by the ONS shows that 1 in 40 people would test positive in Scotland. In Scotland, rates are lower in Wales (1 in 55), England (1 in 60) and Northern Ireland (1 in 80).
Sarah Crofts, from the ONS Covid-19 Infection Survey, said that rates are falling and there are now fewer than a million cases in the UK for the first time since the start of December 2021. Although there is a degree of uncertainty in Scotland and some parts of England, it is too early to determine whether recent declines are ending in these regions. The ONS will continue to keep a close eye on the data.
The ONS survey provides the most accurate picture of Covid cases in the UK.
For more news please click here