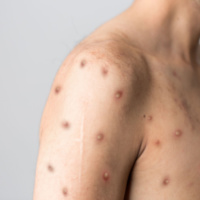 The World Health Organisation (WHO) has declared the outbreak of monkeypox a global emergency.
The new classification is the highest possible. It comes after a sharp increase in the number of cases of the virus, which prompted an urgent meeting of the WHO's emergency committee.
There have now been more 16,000 cases of the virus reported across 75 countries. There have been five deaths so far, according to WHO director general, Dr Tedros Adhanom Ghebreyesus. This is the third global health emergency declared in the last two years following the Covid-19 outbreak and the ongoing effort to eliminate polio.
Dr Tedros said that the committee was not unanimous in its decision to declare a global health emergency, but the uptick in cases and the growing prevalence of monkeypox had pushed members to make the decision. The director general explained that there was concern about the global spread of the virus and uncertainty linked to "new modes of transmission."
Speaking following the committee meeting, Dr Tedros said that the risk of monkeypox was "moderate globally and in all regions, expect in the European region, where we assess the risk as high." There is also a high chance of "further international spread."
Declaring the outbreak a global health emergency will accelerate the development and provision of vaccines and measures to reduce the spread of the virus, the WHO stated. The organisation has published guidelines to encourage countries to implement strategies to limit the spread and lower the risk of transmission. Dr Tedros suggested that the "right strategies in the right groups" will stop the outbreak.
The latest statistics show that there have been more than 2,000 cases in the UK. Those at highest risk have been urged to have a vaccine. Groups at higher risk include some healthcare workers and gay and bisexual men.
Symptoms of monkeypox include a fever, blistery rashes and lesions and swollen lymph nodes.
For more news please click here