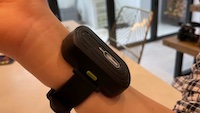 A trial to test a new device for people with Tourette's syndrome has produced positive results.
The Neupulse device, which is worn on the wrist, was developed by researchers at Nottingham University. It is designed to lower the intensity and frequency of tics using electrical impulses.
Trials of the new wrist device have shown positive outcomes, with participants experiencing a reduction in both the severity and regularity of tics. The trial involved 125 participants, all of whom are based in the UK. The initial findings revealed that 25% of people experienced fewer tics when using the Neupulse device.
Lewis Capaldi, one of the best-selling artists in the country at the moment, is among those who have tried the Neupulse prototype. The Scottish singer recently spoke about his Tourette's syndrome diagnosis while performing on stage. He told researchers at the university that he had been impressed with the device.
The university team worked alongside Neurotherapeutics Ltd to develop the device. The company has recently secured an extra £1 million worth of funding to bring the product to market.
Most people who have Tourette's syndrome are diagnosed between the ages of 8 and 12 years old but some people don't receive a diagnosis until adulthood. The syndrome causes involuntary movements, actions and noises, which are known collectively as tics. Tics vary between individuals and can become more or less frequent and intense.
During the trial period, which lasted a month, participants were encouraged to wear the Neupulse device on their wrists at home for 15 minutes per day. They were asked to provide feedback on the effects at the end of each week.
The results showed that active stimulation had a significant impact on tics. After four weeks, participants who received stimulation experienced an average reduction in the intensity of tics of 35%. Almost 60% of people reported a decrease in the severity of tics of 25%.
Mylo, 13, was one of the those invited to test the device. He said that living with Tourette's syndrome can be very tiring and the device really made a difference. When he was wearing it, the urges that precede tics were much less intense and he experienced fewer tics. He said that it is something he would definitely like to have access to in the future so that he can use it when he felt exhausted or like he needed a break from the tics.
Nottingham University professor, Stephen Jackson, said that it's early days for the device but the results are very encouraging at this stage.
For more news please click here