Emergency Dentist London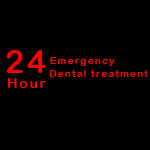 Emergency Dentist London
020 8748 9365
5 Artillery La London, E1 7LP
About Emergency Dentist London
24h Emergency Dentist London
Emergency Dentist London is comprised of three separate clinics, each of which is able to offer complete emergency dental treatment 24 hours a day, every day of the week. The dental clinics are located close to Baker Street, Liverpool Street tube stations and Hammersmith. Trauma to the mouth can be devastating, which is why Emergency Dentist London will make sure you are given the most advanced dental treatment available.
London Emergency Dental Service
The clinics that make up Emergency Dentist London are each of a welcoming nature. This is made possible by the friendly and considerate manner the team strive to deliver. From your first step into the clinic you will be greeted by friendly personnel, which will continue when you sit down on the dentist's chair. Dental treatment is delivered courtesy of experienced dentists and specialists, each qualified to UK first-rate standards. Emergency dental treatment can be performed on the same day as your initial phone call, with nervous and fearful patients always welcome.
Emergency dental treatment may sound like it is going to be performed in a rush and under stressful circumstances, but this is not the case with Emergency Dentist London. From your initial phone call you will be greeted with the voice of an understanding member of staff, who will take down any relevant information and do their utmost to put your worries at ease. Through simple advice you will be informed of the most suitable dental clinic to you, as well as being given directions and information on nearby parking.
On your visit to the dentist you will be greeted with an emergency dentist who will examine your ailment and recommend the best course of action. The treatment can be completed in as little as a day, but this will depend on the level of treatment required, with subsequent appointments sometimes necessary. Emergency Dentist London is able to deal with an array of dental emergencies, including chipped teeth, toothache, gum infection and wisdom tooth extraction. In addition to this, emergency treatment is made all the more easier by the fact that every member of staff is proficient in several languages, including English, Polish, Japanese and Hebrew.
Treatment options at Emergency dentist London
Whatever your dental injury may be Emergency Dentist London can help you.
Toothache: Toothache is something we are all likely to suffer at some stage, but sometimes the pain becomes too much to bear. Such suffering can be remedied.
Knocked out teeth: If your tooth falls out and you manage to recover it then the dental clinic may be able to re-implant it. There are steps to follow on their website for such cases.
Fracture: The type of treatment for a fracture will vary. Whether your case is slight, moderate or severe, the dental team can help you.
Extruding tooth: If a tooth is out of place then this can cause great pain and discomfort when speaking or chewing food. If you hold the tooth in place then a dental professional can rectify any damage.
Swelling: If there is swelling to your mouth then this is likely due to an infection. Immediate diagnosis and treatment should be sort, which Emergency Dentist London is always on hand to offer.
Getting in touch Emergency dentist London
BakerStreet Dental Clinic
Dr Watson Chambers
102 Baker Street
London, W1U 6FY
Tel: 020 8748 9365

Hammersmith Dental Clinic
78 Dalling Road
London
W6 0JA
Tel: 020 8748 9365

Liverpool Street Dental Clinic
5 Artillery La,
London
E1 7LP
Tel: 020 8748 9365
Write A Review For Emergency Dentist London
Ratings & Reviews for Emergency Dentist London
Sorry but Emergency Dentist London has no comments yet, please use the form above and be the first to leave a review.
Go back to
Cosmetic Dentistry Clinics in London