Harley Street Dental Studio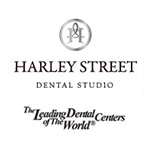 Harley Street Dental Studio
020 7636 5981
52 Harley Street, London, W1G 9PY
About Harley Street Dental Studio
The Harley Street Dental Studio is located in the heart London on Harley Street itself, the area well known for top class doctors and dentist surgeries. The practice was founded by cosmetic dentist Dr. Mark Hughes, who has made regular appearances on television and in print, including on Sky News and in City AM and Glamour Magazine. The staff at the Studio includes experts in orthodontics, paediatric dentistry, root canal and periodontics; so they will definitely have someone at the surgery that can help you whatever your problem. Other dentists can also refer patients to the Harley Street Dental Studio for any advanced treatment they may require.
Harley Street Dental Studio offers a range of dental and cosmetic treatments, from teeth whitening and veneers to braces and dentures. They have the latest advances in dental technology to offer patients the most effective and least inconvenient procedures. The Studio has been profiled and reviewed in a number of national magazines and newspapers and was awarded a prize at the 2009 Smile Awards. As well as a number of dentists, the Harley Street Dental Studio employs dental hygienists and can arrange for you to be seen by an experienced clinician in their practice if you require treatment that they cannot offer. This gives you the convenience of having all your procedures carried out in the same place, no matter what extra help is needed. All practitioners associated with the Harley Street Dental Studio hold a current registration with the General Dental Council.
The Studio itself has the most up-to-date technical equipment in a calming and soothing environment, with a comfortable waiting area which is more like an art gallery than a clinical dental surgery. It is even possible for you to listen to music or watch a film while undergoing treatment.
Cosmetic dentistry in London
The Studio offers an exemplary selection of cosmetic treatments, including:
Zoom! teeth whitening and Enlighten
Porcelain veneers
Dental bridges, crowns and dentures
Invisalign 'invisible' braces
Dental implants
Facial enhancement treatments
Patients can undergo the Zoom! and Enlighten teeth whitening systems in the surgery, in just a few visits, or the Ramp treatment which is more suitable for people with added sensitivity, offering similar results over a longer period of time. Other procedures offered to brighten up your smile include porcelain veneers, dental bridges and dentures.
Harley Street Dental Studio's orthodontists use the latest design of braces, the Invisalign system, to help straighten out any problems with your teeth. Invisalign uses a series of clear plastic aligners which are invisible during treatment to correct any crooked teeth or gaps. The Invisalign Teen treatment is popular with young people who don't want the stigma of wearing braces while undergoing orthodontic procedures or the practice's resident paediatric orthodontist can discuss other options with you. All the braces on offer at the Studio are aimed at providing comfort and effective results.
 If you need dentures or a false tooth, you can take advantage of the Straumann dental implants offered by the surgery's expert. These fix dentures and crowns securely in place, leaving you able to eat and carry out whatever activities you enjoy in comfort and security.
The Studio even offers some facial cosmetic treatments such as Restylane which restores the collagen in your skin.
Write A Review For Harley Street Dental Studio
Ratings & Reviews for Harley Street Dental Studio
Sorry but Harley Street Dental Studio has no comments yet, please use the form above and be the first to leave a review.
Go back to
Cosmetic Dentistry Clinics in London