Barnton Dental Spa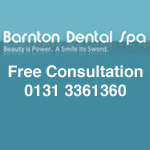 Barnton Dental Spa
0131 3361360
1B, Parkgrove Street, Edinburgh, EH4 7NS.
Overall Rating 5 out of 5
from 1 review
Review
Just finished my 6 month smiles treatment and what i can say about these guys are that they look after you and its such a nice environment!
Overall Rating 5 out of 5
from 1 review
About Barnton Dental Spa
If you are currently living in Edinburgh or you are willing to travel for great dental care then Barnton Dental Spa is perfect for you. Not only does it provide cosmetic dentistry treatment but it focuses on general dentistry too, which makes it ideal for the whole family.
They provide a state of the art yet very elegant atmosphere as soon as you walk into the building. With usage of high-tech, modern equipment and a vital sense of friendliness, they'll certainly make you feel like you're in expert hands. The spa delivers an aspect of tranquillity within their unique décor to make their more nervous patients feel at ease. Even the name of the dental practice sounds calming.
A small group of dentists in Edinburgh very experienced in cosmetic dentistry will give you that smile you have been craving for. They will listen to your every wish and give you exactly what you require down to the most intricate of details.
Treatments Available
Barnton Dental Spa is one of the leading cosmetic dentists in Edinburgh and can offer you a number of treatments, tailor made for you. Examples include (in regards to cosmetic dentistry):
Smile Makeovers in Edinburgh
The treatments above are specifically designed to dramatically enhance your smile. Other treatments include facial cosmetics to further a self-confidence boost.
But, as previously mentioned, Barnton Dental Spa provide professional care when it comes to general dentistry too and can provide the following treatments also:
Fillings
Extractions
Dentures
Root Canal Treatments
Gum treatments
Along with all the treatments offered the Barnton Dental Spa team can perform routine check-ups to make sure your teeth and over-all oral hygiene is up to a brilliant standard. The spa provides a free consultation with one of the expert dentists, who will analyse your situation and from there you both decide what the best treatment is for you.
Be sure to ask about the 0% finance scheme as this could help with your anxieties about the cost of the treatment and will help you budget your dentistry costs for the future. Barnton Dental Spa also provides two dental plans, including:
Maintenance Plan – especially designed for regular patients. This plan provides great discounts and oral hygiene advice, along with check-ups and all preventative care is assured.
Care Plan - provides most general dentistry treatments, check-ups, extensive preventative advice and aims to reduce the need for future treatment.
All reviews regarding the dentists have been extremely promotional; patients have praised them very highly and talk about how their treatment and their approach have changed their lives for the better.
If you're wondering about the 'Spa' in the name too… Well, Barnton also provide a variation of spa treatments. If you're feeling particularly nervous then ask for some spa treatments to calm your nerves. Barnton Dental Spa is highly recommended by all of its patients. Located on Parkgrove street, on a main road you can't miss it and you certainly wouldn't want to.
Write A Review For Barnton Dental Spa
Ratings & Reviews for Barnton Dental Spa
Go back to
Cosmetic Dentistry Clinics in Edinburgh