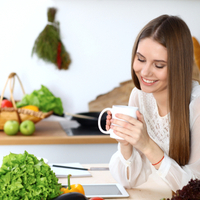 NHS officials are calling for a ban on celebrity adverts for diet aids.
NHS medical director, Prof Stephen Powis, is encouraging social media companies to ban adverts and promotions for products including slimming teas and diet pills. Describing the social media adverts, which can be found plastered across sites like Instagram, as "damaging," Prof Powis believes celebrity endorsements are having a negative impact on both the physical and mental health of web users, particularly young people. The director of the NHS has also urged celebrities to be more responsible when choosing which products and brands to promote.
Prof Powis said that people buy into celebrity adverts, but the reality is that if a product "sounds too good to be true," it probably won't be effective. Furthermore, it could actually have harmful implications. Many campaigns focus on quick-fixes and rapid weight loss, and these techniques go against the advice provided by qualified, highly-trained and experienced health professionals. The risks of losing weight quickly far outweigh the benefits, but these risks aren't outlined and highlighted to consumers.
Talking about the impact of celebrity adverts, Prof Powis accused celebrities of letting their fans down and he also encouraged social media companies to do more to protect audiences. Most platforms are geared towards young people, many of whom are concerned about body image, and are therefore vulnerable to targeted marketing campaigns.
Speaking on BBC Breakfast, mental health director at NHS England, Claire Murdoch, said that the aim was not to "suppress business or comment on what good business looks like" but to encourage celebrities to be more responsible and to be mindful of the potential implications of the campaigns with which they get involved.
One of the most high-profile examples is Kim Kardashian-West. Boasting millions of followers on Instagram, the reality TV star has been criticised for promoting products including appetite-suppressant lollipops and meal replacement shakes. Following the posts, body positivity campaigner, Jameela Jamil, branded the most famous member of the Keeping Up with the Kardashians clan a "terrible and toxic influence on young girls."