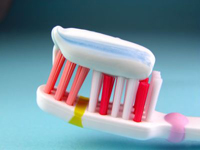 Dentists from the Indian town of Udheywala recently held a dental camp for children from the local Home for the Handicapped. Sixty children attended the camp where they were treated for free.
All the children had the opportunity to get a check up for a wide variety of potential oral problems including tooth decay, cavities, gingivitis, abrasion and even a foul smell, which may be a symptom of something more serious.
Dentists at the camp, which was organised by a group of local dentists, also educated the children on how to look after their teeth. They were taught the importance of brushing teeth twice a day as well as being given other information about oral hygiene.
Those found to have oral problems were also treated without charge.
The camp is part of an ongoing campaign by dentists in India called the Zero Tooth Decay campaign. Organisers told local reporters they believe it was a great success, sentiments echoed by officials from India's dentist community.
Meanwhile, dentists in Canada are worried about children of the Canadian aboriginal population, more commonly known as Canadian Indians. It seems more than 90% of babies and children living in some communities suffer from serious tooth decay.
Dr. Robert Schroth, a paediatric dental specialist from the University of Manitoba in Winnipeg told local reporters that as many as 18 out of 20 baby teeth in a large number of aboriginal children have rotted away. He said: "The crowns have broken away and it's only the little root stubs left and sometimes little draining abscesses."
Dr. Schroth says a major part of the problem is a misunderstanding among parents on how bacteria picked up can cause tooth decay. He said that parents should not under any circumstances pick up a baby's dummy or soother which has fallen on the floor, lick it, and then give it straight back to the child to put into his or her mouth.
The same applies to bottled milk which is dropped. The latter can carry infectious diseases caused by bacteria such as streptococcus. This, combined with poor diet and hygiene are huge contributory factors in oral health problems, which can be painful; a loss of so many teeth in a short time can also have a debilitating effect on the child's ability to chew and eat properly.
Oral problems can also affect a child's sleep pattern as well as his or her growth and development.
Teeth problems in young children aren't just about oral hygiene.