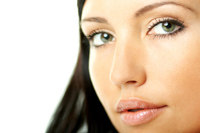 Alicia Douvall, the 30 year-old plastic surgery addict and model has had over 100 cosmetic procedures and has been banned from undergoing further cosmetic procedures in the UK.
In fact, Douvall reportedly flew to the US and lied to doctors in order to receive cosmetic treatment in September 2010.
Douvall, who said she has had so many operations that, at one point, she could no longer feel her stomach or left breast, had surgery to correct previous botched procedures including one she called "the worst scare of my life."
The former glamour girl says that she has now regained the feeling back in her face, although it remains unclear to whether or not sensations have retuned to her left breast and stomach.
Douvall has reportedly spent in excess of £1 million on plastic surgery including procedures to cut pieces of bone on the second toes of her feet in order to make them shorter than her big toes. Fighting for space on Douvall's repertoire of surgery procedures includes a staggering 15 boob jobs, multiple facelifts and alterations to her nose and eyes.
Douvall's plastic surgery addiction has left her with Body Dysmorphic Disorder (BDD), a condition that causes its victims to become preoccupied with their physical appearance, fretting and obsessing over small, and sometimes, nonexistent, defects.
In addition to BDD, Douvall's plastic surgery addiction has left her with a longing to look in the mirror and love the woman she sees, Douvall says.