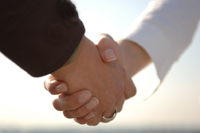 While the UK is debating the future of the National Health Service, other countries are looking at ways to help people, in particular poor people who cannot readily access health care.
One such place is Mumbai where as part of his 46th birthday celebrations, Sanjay Nirupam who is a member of the Mumbai North Congress has suggested giving 500,000 poor people free health insurance.
Speaking with reporters, the Mumbai North Congress president, Ashok Sutrale said: "After consultation with party leaders at the local, state and national levels, he decided to come up with something unique for the poor and needy who could not afford prohibitive medical expenses."
The idea came about because of the growing cost of health care both in the private and public sectors. As such, many people, particularly women were having problems accessing insurance.
The scheme itself is being launched in collaboration with the Oriental Insurance Co Ltd, with a specially designed policy with cover up to 30,000 rupees per annum.
Sutrale said: "Through charitable organisations and trusts, the MP will bear the annual premium burden of around R[upee]s.4-5 crore for the one lakh policies."
Meanwhile in Ghana, there are problems with their own health insurance policy. It seems there are delays in reimbursing National Health Insurance claims which is causing a major set back in the provision and delivery of health care.
The Medical Superintendent of Margret Marquart Catholic Hospital Reverend Sister Dr Lucy Hometowu told reporters: "this problem has thwarted its programmes to plan ahead as it is uncertain when claims would be honoured."
Speaking at a Golden Jubilee celebration of the hospital, Dr. Hometowu added: "the hospital has thus become a perpetual debtor. As declared by President J. E. A. Mills, we want action from the National Health Insurance Scheme, we want it now."