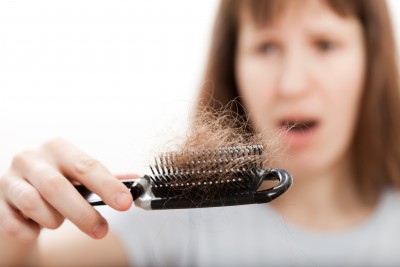 For females the answer is yes, according to the American Institute of Trichologists.
The Chairman of the Institute Marilyn Sherlock believes women are particularly vulnerable when they either embark on a diet or suffer iron deficiency. She told reporters: "By dieting, I don't mean dieting sensibly, I mean crash dieting. And because of the hair growth cycle – if hair is suddenly damaged by lack of proper nutrients, it's three months before it falls out."
Ms Sherlock added: "So, if you eat lots of meat, for example, you've got protein and iron in one package, so you would expect it to be good for hair growth. But, unless you eat carbohydrates, it'll go straight through you because you can't absorb it."
Like other medical practitioners the Institute of Trichologists feel a balanced diet is of utmost importance.
Unfortunately, the major problem for Ms Sherlock is what she describes as cuckoo diets, which many women decide to use. Instead of eating properly these cuckoo diets are causing extra unnecessary problems, including hair loss.
A balanced diet, according to Marilyn Sherlock provides proper protein and other nutrients required including the correct amount of iron.
In associated news it seems many models are taking supplements in an effort to stave off potential hair loss, due to over styling and colouring. Many models have admitted that the constant 'working' on their hair has caused it to thin and drop out.
In an effort to solve this problem many models are now turning to supplements such as Viviscal natural hair supplements. One salon owner who specialises in this area said: As a salon owner and stylist, I recommend Viviscal Professional to all my female clients who are experiencing thinning hair. I can't tell you how delighted they – and I – are with their healthier, fuller and longer hair! Plus, I love the fact that it is all natural with clinical results to back it up!"
This view has also been backed up by one hair experts who commented: "Hair loss starts earlier for women than men and the patterns are different. To battle the bare spots, I recommend Viviscal over-the-counter supplements… to stimulate growth and prevent additional loss."
The product is made in Finland.