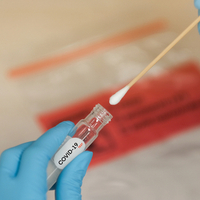 A DIY, no-swab Covid-19 test is set to be piloted in the UK.
Researchers based at Southampton University are overseeing a four-week trial of the DIY test, which will involve more than 14,000 participants. The test is a no-swab saliva test, which enables individuals to spit into a tube. The aim is to determine whether or not the individual has Covid-19 at the time of testing.
Initially, the test will be trialled on thousands of key workers, including GPs, in addition to staff and students from the university, over a period of four weeks. Participants will provide a weekly sample. Testing pots will be delivered to the home or workplace of those involved and then either collected by the testing team or delivered to a chosen location.
The test is designed to offer a more convenient and comfortable alternative to swab testing, and it could help to pick up infections in those who are asymptomatic (showing no symptoms.) The trial will run alongside NHS testing, which is available to anyone who is displaying symptoms.
Matt Hancock, the Health Secretary, thanked everyone who has agreed to participate in the saliva test trial, which could make it easier for individuals at home to provide a sample. The findings of the pilot will also provide valuable data related to whether routine home testing could detect cases of the virus earlier and consequently, reduce the risk of transmission.
During the pilot, anyone who tests positive for Covid-19 will be advised to isolate at home and to provide details of any potential contacts.
The test works by searching for genetic material linked to the virus using a technique known as LAMP, or loop-mediated isothermal amplification. Experts believe saliva testing is a faster, simpler and less invasive means of virus testing than the PCR (polymerase chain reaction) method, which is currently employed to detect the virus.
The team based at Southampton University are trialling the Optigene saliva test, as well as other no-swab tests in partnership with a host of companies and organisations, including MAP Science, Chronomics, Avacta and Oxford Nanoimaging.