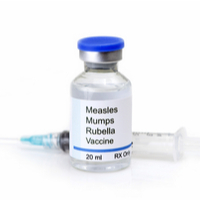 The Health Secretary, Matt Hancock, is considering introducing compulsory vaccination for children in England, as recent statistics confirm uptake rates have fallen. 
Speaking at the Tory Party conference in Manchester, Mr Hancock suggested that he is thinking about the measure in a bid to tackle falling rates of immunisation and protect children from preventable illnesses. The uptake of the MMR vaccine, which protects against measles, mumps, and rubella, has fallen significantly. In England, the proportion of children receiving both doses of the MMR by their 5th birthday has fallen to 87.2%. This figure is well below the 95% standard that is believed to provide 'herd immunity.'
Mr Hancock has been vocal in his criticism of social media outlets in recent months, and he is working with health experts to identify ways of boosting uptake rates and improving education for parents. So-called 'fake news' is an issue, and content that berates and questions immunisation is widely available online. One explanation of the declining MMR uptake rate is the spread of articles and posts that link the vaccination to complications and side-effects, most notably, an increased risk of autism. 
The truth is that immunisation programmes are based on decades of research, and the benefits of vaccination far outweigh any risks. Medical experts are keen to reach out to parents and encourage them to make sure that their children start school with a full vaccination record. Immunisations protect children against illnesses that had all but been eradicated in the UK. 
Previously, Mr Hancock suggested that he wasn't keen on the idea of enforcing rules related to immunisation, but uptake rates are continuing to fall, and those who aren't immunised are putting other children at risk. At the party conference in Manchester, Mr Hancock described the health system as a "two-way street" and urged parents to take responsibility for their child's health and wellbeing. Vaccinations are available free of charge, and doctors, practice nurses and pharmacists can answer questions and provide information about the benefits of immunisation programmes.