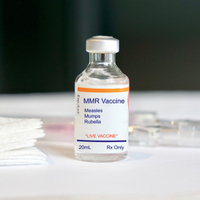 The Prime Minister, Boris Johnson, has announced a raft of measures to protect the public against measles. The move comes after the UK lost its measles-free status amid a decline in immunisation rates.
Measles can be prevented by means of a double-dose immunisation, which is provided as part of the NHS routine vaccination programme for children, but research shows that vaccination rates have fallen. Just three years ago, the UK was declared a measles-free zone, but there have been 231 confirmed cases in the first quarter of 2019. 
To tackle the rising number of cases and promote immunisation, the Prime Minister has announced a number of measures, including encouraging GPs to contact the parents of children who have not had the second MMR immunisation, working with social media companies to prevent fake news and misleading content from circulating and using the NHS website to provide accurate information about the measles vaccination. The government has invited social media firms to attend a summit to discuss ways they can detect inaccurate information and ensure people have access to reputable sources and credible information. 
Most cases of measles recorded in the UK have been diagnosed in people who have come from abroad, but there is concern about the fall in immunisation rates. The latest statistics show that only 87% of children who had the first dose of the MMR vaccine also had the second injection, which is significantly lower than the target of 95%. Figures also suggest that 1 in 7 children in England are starting school without having the injections. 
Experts believe that there could be several reasons why measles rates are increasing, including complacency on the part of parents and the spread of inaccurate and potentially misleading information. If parents read articles that question the safety of the MMR on social media, for example, it's natural for them to be concerned, and this might impact their decision when it comes to taking their child for a vaccination. The truth is that the MMR has been trialled rigorously over many years and it is a proven, safe method of preventing measles. Ministers and health professionals are urging parents who have questions to seek advice from their GP or a pharmacist.