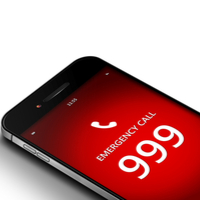 Health experts are urging patients who need emergency care to call 999 amid fears that some are avoiding picking up the phone because they don't want to increase pressure on the NHS.
Patients who need help for symptoms that are not related to coronavirus are encouraged to seek help in the normal way by contacting 999 and requesting an ambulance. There are concerns that people are reluctant to call 999 because they don't want to increase pressure on NHS services at a time when nurses, doctors and paramedics are under strain.
The Stroke Association has stressed that any delay in seeking treatment could result in debilitating and even life-threatening consequences.
The latest figures for England and Scotland show that people are visiting hospitals less frequently than normal. This is fine when patients have minor illnesses and ailments, but health chiefs and charity representatives are worried that patients are holding back when they need emergency treatment because they don't want to be a burden, or they're worried about going to hospital during the coronavirus crisis.
Dr Deb Lowe, NHS Clinical Director for Stroke and Consultant Stroke Physician at Wirral University Teaching Hospital, said that patients should be aware that hospitals are primed and ready to treat patients who have urgent needs that are not related to COVID-19, as well as those who fall ill after contracting the virus. Dr Lowe added that the most important message is to ensure patients who do experience symptoms of a stroke contact 999 as quickly as possible. Every second counts when a patient has a stroke or a heart attack, and patients shouldn't hesitate to seek help.
The FAST acronym is used to help patients and loved ones detect signs of a stroke. Symptoms include a drooping face, usually on one side (F), struggling to raise both arms (A) and slurred or incoherent speech (S). When these symptoms develop, it's time (T) to call an ambulance.