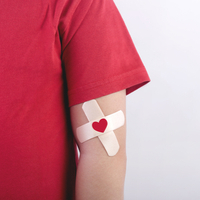 The NHS is encouraging healthy individuals to consider giving blood, following a 15% drop in donations last week.
As concerns about coronavirus grow, health experts are urging people who have appointments booked to keep them in a bid to maintain blood stores. A spokesman said that the impact of the drop was 'minimal' at the moment, but if donations continue to fall, this could lead to shortages in supply at a time when the NHS will be under unprecedented pressure.
In the past week, the NHS Blood and Transplant (NHSBT) service has received record numbers of calls, with around 500 people per day ringing to see if blood donation appointments are still running as normal. Anyone who feels well is encouraged to keep their appointment to avoid a significant drop in blood stores. Those who don't feel well are urged to stay away from donation centres. It's particularly important for donors to stay at home if they have a high temperature or a cough.
Teams are taking additional hygiene precautions on top of existing stringent measures to try and minimise the risk of the virus spreading.
Dr Gail Miflin, chief medical officer for NHSBT, said that it's crucial that those who are able to attend donation sessions continue to do so, as the NHS is going to come under increasing pressure over the coming weeks and months. Blood donation saves lives, and it could prove vital for many patients struggling with critical illness in the months ahead.
Many people who don't have medical training or qualifications have been asking how they can help the NHS out recently, and giving blood is a means of saving lives and making a difference. Although the virus is unlikely to contribute to a direct increase in demand for donor blood, many patients, including those involved in accidents and women having babies, will be dependent on access to blood supplies during the crisis.