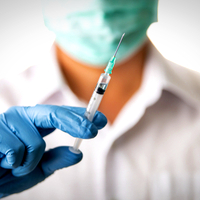 Health experts are encouraging people to make sure they are vaccinated against measles and mumps, amid an outbreak of mumps.
The latest statistics show that in the first 3 months of 2019, 795 cases of mumps have been recorded. In the whole of 2018, there were 1,031 cases.
In light of the figures, Public Health England is urging the public to check that they have been immunised and encouraging those who haven't had the MMR to see their GP as soon as possible.
Mumps outbreaks tend to be more common among young people, and recently, there was a spike in the number of cases reported in Nottingham. The universities of Nottingham and Nottingham Trent both confirmed a number of cases had been diagnosed, and similar outbreaks were also reported in Wales and Northern Ireland. Mumps is a viral condition, which causes painful swelling in the glands beneath the ears.
There has been a lot of media attention focused on the MMR vaccine, as anti-vaccination campaigners have become more vocal using platforms like social media. Many of the students starting university now were born at the height of a scare that centred on the risks of having the MMR vaccine, and health experts are keen to ensure that students are vaccinated before they start school or college. The claims put forward by Dr Andrew Wakefield, which suggested that the MMR jab was linked to autism, have been disproved and discredited.
The MMR immunisation is endorsed by health organisations all over the world, but there has been a proliferation of fake news and articles designed to turn parents against vaccination. The advice from Public Health England is for parents who are worried or unsure about the safety of the vaccine to consult their GP and to take expert advice on board.