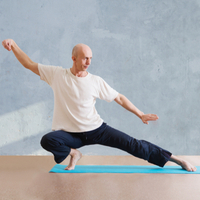 Leading doctors in the UK are recommending undertaking muscle-strengthening exercise twice a week to promote better health. Doctors believe that this type of activity should be combined with aerobic exercises to enable people to stay active and healthy for longer. 
New exercise guidelines have been released, and for the first time, advice is targeted at pregnant women and new mothers. Produced by the UK's leading medical officers and based on the latest scientific evidence, the guidelines recommend muscle-strengthening exercises twice a week, dance, bowls and Tai Chi for over 65's to lower the risk of falls, and regular sessions of moderate physical activity for pregnant women and new mums. 
The guidance confirms that physical activity protects against a host of life-threatening illnesses, including type 2 diabetes, obesity, and heart disease. There are also significant mental health benefits, including a reduced risk of depression. The main message is that activity is always better than inactivity, and that varying exercises can be even more beneficial for physical and mental health. 
England's Chief Medical Officer, Prof Dame Sally Davies, said that research indicates that the majority of children and adults in England aren't currently active enough. The revised guidelines encourage a more active lifestyle and promote 150 minutes of moderate exercise for adults, in addition to urging people to participate in different activities. 
It's common for those who are active to focus on aerobic and cardio-based activities, but experts are keen to urge people to undertake muscle-strengthening exercises to counteract the natural loss of muscle mass and bone tissue that occurs later in life. 
Adults aged 19-64 are encouraged to complete 150 minutes of moderate exercise per week, including 2 sessions of muscle-strengthening exercises or resistance training, and to avoid long spells of inactivity. Over 65's should aim to be as active as possible, combining aerobic activities with exercises like gardening, dance, bowls and Tai Chi to boost muscle strength and improve mobility and flexibility. 
Pregnant women should undertake gentle-moderate exercise up to 150 minutes per week, including cardio and building up muscle strength without compromising the bump. Vigorous activities are not encouraged. After birth, new mums are urged to start exercising when they feel able, gradually building up their fitness and increasing strength. Pelvic floor exercises are particularly beneficial and should be started as soon as possible after birth. Anyone who is expecting, or has recently given birth, should feel able to ask for advice or tips from their GP, health visitor or midwife.