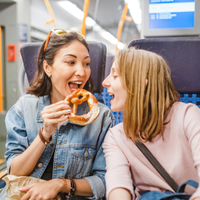 England's chief medical officer, Prof Dame Sally Davies, has called for a ban on snacking on public transport in a bid to tackle rising rates of obesity. 
In her final report, Prof Dame Davies suggested that the government needs to introduce more stringent measures to hit obesity targets. In addition to prohibiting snacking on public transport, the report also recommended tougher measures for junk food advertising. 
Writing her final recommendations before she leaves the position as CMO, Prof Dame Davies suggested that children are "drowning in a flood" of unhealthy food options and raised concerns that without more robust measures, ministers would fall short of targets to cut obesity rates. The current target is to reduce obesity rates by 50% by 2030. 
Prof Dame Davies said that the environment in which we live has become increasingly unhealthy, and this has contributed to an increase in life-threatening illnesses. Many people are unaware that the choices they make are unhealthy, but snacks that are laden with sugar and saturated fats and fast food are also more widely available than ever before. The proportion of children that are either overweight or obese has increased by 50% in the last 30 years, with approximately a third of children overweight or obese by the time they reach their 11th birthday. Girls are particularly prone to gaining weight, and figures for young girls in the UK are among the highest in Europe.
Research suggests that children growing up in deprived areas are still more likely to be overweight or obese than those from more affluent towns and cities despite public health campaigns aimed at parents and children in poorer areas. Obesity is a known risk factor for type 2 diabetes, some forms of cancer, and heart disease. In the past, type 2 diabetes was viewed almost exclusively as an adult illness, but studies show that there are now more than 100 new cases diagnosed in children in the UK every year. 
To combat the problem and bring obesity rates down, Prof Dame Davies has made a series of recommendations, including phasing out marketing and advertising of unhealthy foods and drinks, banning food and drink on local public transport, providing free water refills at food outlets, transport facilities and public buildings, adding milk-based sugary drinks to the list of products eligible for the sugar tax, and encouraging physical activity by staging car-free weekends.