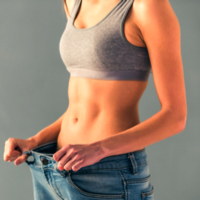 A new study has revealed that short bursts of intense exercise are better for weight loss than longer spells of gentler activity.
Researchers from the Federal University of Goias in Brazil, analysed data from 36 studies, which involved over 1,000 adults, to measure the impact of different types of exercise. The team evaluated data from 576 men and 522 women, and participants had varied fitness levels.
The team found that interval training was the most effective means of losing weight. Those who undertook interval training, which is characterised by spells of fast-paced cardiovascular
exercise interspersed with short rest periods, lost more weight than those who followed a less intensive programme. On average, those who did interval training lost 3.5lbs in 4 weeks.
The average weight loss in the group that undertook less intensive exercise was 2.49lbs. Sprint intervals and HIIT (high-intensity interval training) were found to be most effective, with average weight loss 28.5% higher in this group. The findings of the study have been published in the British Journal of Sports Medicine.
Dr Niels Vollaard, lecturer in health and exercise science at the University of Stirling, described the results as "counterintuitive" as many people burn more calories during longer periods of exercise. He suggested that the weight loss may be greater with intensive exercise due to increased energy expenditure after activity and decreased appetite after HIIT training. With HIIT training, research suggests that the speed of your metabolism can increase for up to 24 hours after a session, meaning you burn more fat during this period.
Michael Mosley started HIIT 7 years ago while filming a Horizon documentary for the BBC, which was entitled 'The Truth About Exercise.' He undertook high-intensity cycling workouts three-times-a-week and this contributed to increased insulin sensitivity and appetite suppression. Mr Mosley found that his insulin sensitivity increased by 24% and that he wasn't hungry after working out. All too often, Mr Mosley explains, people exercise, and shortly afterwards, they find themselves reaching for a treat, which can effectively undo the hard work. With HIIT, the urge to eat appears to be weaker. There's also evidence to suggest that HIIT works to target visceral fat within the gut.
While HIIT can be incredibly beneficial to increase fitness and aid weight loss, experts ar keen to point out that it isn't suitable for everyone, and it's wise to seek advice from a doctor or a personal trainer before starting a new exercise regime.