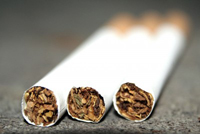 A study carried out in Taiwan has concluded that smoking may cause hair loss to occur or to speed up in some men.
Lin-Hui Su of the Far Eastern Memorial Hospital and Tony Hsiu-Hsi Chen of National Taiwan University in Taipei found that smoking can destroy hair follicles, interfere with the way important hormones and blood is circulated in the scalp and even increase the production of oestrogen, all of which can contribute to hair loss.
The study looked at 740 men in Taiwan aged around 65 and the researchers established that in cases where the subject smoked 20 or more cigarettes a day, smoking was an important factor in the development of hair loss.
Asian men, along with blacks and native Americans, tend to have a lower incidence of male pattern baldness or androgenic alopecia, which is responsible for more hair loss among white males. However, the fact that smoking can also cause hair loss could erode any advantage these groups have over whites unless the message about cigarettes is heeded.
In the conclusion of the study, which was published in the November issue of the Archives of Dermatology, Su and Chen recommended that Asian men who are starting to show signs of hair loss should be warned by doctors about the role smoking can play and then be allowed to make their own decision about quitting.