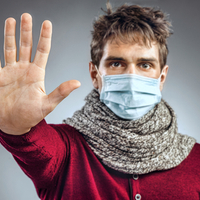 The UK is braced for more corona virus cases after a GP surgery in Brighton closed due to a staff member testing positive for the virus.
County Oak Medical Centre has been shut temporarily after a member of the staff team tested positive for corona virus. Patients and other staff members have been advised to seek urgent medical attention if they start to feel unwell. Symptoms of corona virus are similar to those linked to flu. Anyone who does develop symptoms after visiting the surgery is advised to contact the NHS 111 phone service.
On Monday 10th February, eight cases had been confirmed in the UK, and the government introduced measures to try and stop the spread, declaring the virus a "serious and imminent threat." Although the overall threat to the UK is still rated as 'moderate', stepping up measures is a means of accessing new legal protocol that enables health workers and ministers to exercise powers, for example, extended quarantine periods. The move comes after an individual currently in quarantine after flying back to the UK from Wuhan threatened to abscond.
The first two cases in the UK were diagnosed in York, and the third case in Brighton. The man who was tested in Brighton had been to Singapore, travelling home via a French ski resort. It has now been confirmed that a further five Brits who came into contact with the man in France, have also tested positive.
Globally, the virus has now affected more than 40,000 people, with 908 deaths in China.
The advice from Public Health England is to prioritise personal hygiene, wash hands with antibacterial soap frequently and to seek medical advice if you do start to feel unwell, especially if you have travelled overseas in the last four weeks.