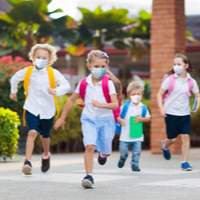 The UK's chief medical adviser, Professor Chris Witty, claims that missing school is more harmful for children than Coronavirus.
Research suggests that the risks of developing serious complications or dying from Covid-19 are "incredibly small" among children, and Prof Whitty believes that missing out on going to school is infinitely more damaging, especially in the long-run.
Across the UK, millions of children are preparing to go back to school, and understandably, some parents and teachers are apprehensive. In recent days, government ministers and advisers have stressed the importance of getting children back to school and issued advice for those gearing up for the start of a brand new school year that is likely to be very different to any that have gone before it.
Professor Whitty suggested that it was highly likely that we would be living with Covid-19 for a long time, and that it would pose challenges across all landscapes. The aim is to try and balance risks to benefit people at the same time as keeping the most vulnerable safe. While it is unlikely that there will be a vaccine by the end of the year, there is hope that a safe, approved vaccine will be available by next winter. For the time being, scientists are working with ministers to reopen schools as safely as possible.
Prof Whitty, the Chief Medical Officer for England, said that there was "clear evidence" that children tend to be asymptomatic, with the risk of developing complications very small. There is no way of operating without any risks at all, Prof Whitty explained, but opening schools with measures in place is important for preserving other areas of health and wellbeing. In an interview, Prof Whitty stated that "many more [children] were likely to be harmed by not going than harmed going" back to school.
As well as highlighting the benefits of going back to school in terms of physical and mental health and access to education and social opportunities, Prof Whitty was also keen to reassure parents and carers. A recent study published by Public Health England suggested that 128 members of staff and 70 children were infected with the virus out of 1 million individuals attending pre-schools and primary schools in June. ONS statistics show that there were 10 deaths recorded as "due to Covid-19" in under 19's in England and Wales between March and June 2020.