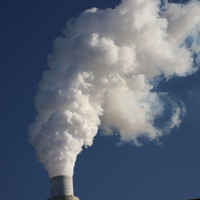 New research suggests that air pollution is increasing the risk of heart attacks, strokes and asthma.
A team based at King's College London found that spikes in air pollution contributed to a significant increase in the number of cases of heart attacks, strokes and acute asthma symptoms. Researchers analysed data collected in London, Manchester, Birmingham, Bristol, Liverpool, Derby, Nottingham, Oxford and Southampton. 
On average, the number of cardiac arrests rose by 124 on days where pollution levels reached the top half of the annual range. The statistics were obtained based on ambulance call data and did not take heart attacks sustained in hospitals into consideration. 
Simon Stevens, the boss of NHS England, said the findings indicated a "health emergency."
The figures reveal that on days with the highest pollution levels, the number of cases of strokes increased by 231 across the nine major cities. More than 190 extra adults and children also required hospital treatment for asthma. 
Dr Heather Walton, from King's College's Environmental Research Group, said that most policies that are designed to reduce pollution are linked to life expectancy, but this study suggests that air pollution is associated with a wide range of health problems and effects. 
The impact of high pollution was most noticeable in London. High-pollution days caused an additional 87 heart attacks, 144 strokes and over 100 children and adults requiring hospital treatment for asthma in the capital. In Derby, there were no significant increases reported. 
Air pollution is linked to poor lung development and stunted growth, but the King's College research team also believes that reducing pollution by 20% would decrease the number of cases of lung cancer by between 5% and 7%. 
Speaking about the study, Mr Stevens said that the "climate emergency is in fact also a health emergency" and called for the country to come together to take action.