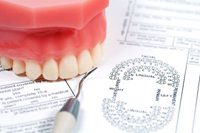 Christine Keneally has come under fierce attack by dentists over what they see as being an inadequate election promise to do something about oral health.
The dentists believe what the Government is proposing will do little to improve dental health in Australia.
Speaking at Sydney University, Hans Zoellner, who is head of the University's Oral Medicine Department, said: "This Government has never even tried to do something for public dentistry," he said. "You need to look at what other states are doing and for this state to match the others; it needs to pour in A$192 million a year, not A$12.4 million over four years."
The Government's policy apparently means providing 10,000 vouchers worth up to A$400 for families who are currently on the public dental waiting list.
The A$12 million package is also thought to help give 5000 pensioners new free dentures and help 500 children who undergo general anaesthetic.
Other measures are also suggested.
The package of measures being offered by Ms Keneally forms part of the Government's new approach called Fairness for Families. She told an election meeting that dental care was another cost for families which many cannot afford. She said the new measures announced will go some way to alleviate the situation.
However critics say the proposed vouchers will only be available to concession card holders, pensioners and children. Many families apparently will still be ineligible. Mark Sinclair, New South Wales branch president of the Australian Dental Association suggests desperate and low income families will still lose out.