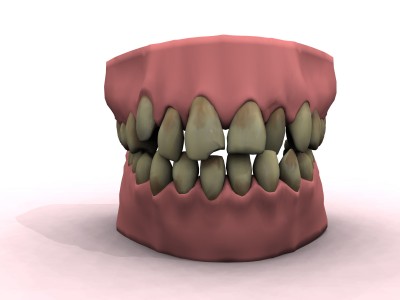 The fashion pack is embracing an unlikely trend that has prompted many young women to visit their dentists.
The gappy smile has become the new 'must have' accessory and is being championed by models including Lara Stone and Georgia Jagger. Earlier this year, Tyra Banks sent one of the contestants on America's Next Top Model to a dentist to have the gap between her front teeth widened, an act that provoked ferocious debate on fashion forums and social networking sites.
Historically, a gap between the front teeth was seen as a sign of poor oral health, but now it has been turned into a symbol of unique, quirky beauty and many young women are visiting their dentist in a bid to get the gappy smile showcased by models and celebrities.
Experts in Australia have warned young people to try and avoid fashion fads when it comes to having treatments that may affect health; many dentists have warned that people are concerned with the way their teeth look rather than the health of their teeth and have urged patients to keep an eye on their oral health, rather than the latest fashion trends.
Recent figures show that more than 12 percent of adults in Australia have not visited a dentist in the last 5 years and one in four people have untreated dental decay.