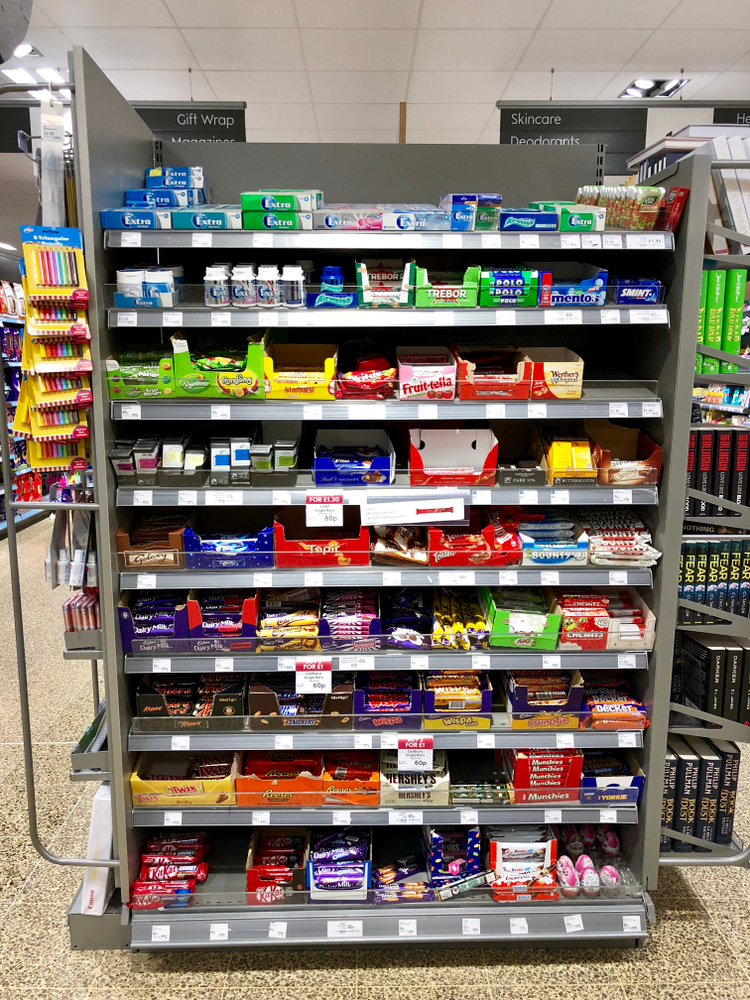 Image Editorial credit: photocritical / Shutterstock.com
The Government is set to ban the promotion of sweets and fatty snacks at supermarket checkouts as part of a new drive to slash obesity rates. Under new guidelines, shops in England will be banned from displaying sweets and chocolate bars by tills, as the Department of Health launches an updated Childhood Obesity Plan.
New guidelines also include tighter restrictions on advertising junk food and the introduction of nutritional information and calorie labels on menus. The aim is to cut childhood obesity rates by 50 percent by 2030.
Health secretary, Jeremy Hunt, said that a raft of new measures will give parents the power to make healthier choices for their children. Statistics show that a third of children are either overweight or obese by the time they celebrate their 11th birthday. The new measures are part of an updated plan to target childhood obesity, which was introduced by health ministers in 2016. At the time, it was criticised for not going far enough, and the Government's decision to be more robust has been welcomed. The new plan also aims to narrow the gap between children from poorer and more affluent areas.
The revised Childhood Obesity Plan includes proposals to remove sweets and fatty snacks from shop tills, checkouts and entrances, and there will also be a ban on offers, such as buy-one-get-one-free. Schools will be encouraged to participate in the 'active mile' scheme, which is designed to get children moving on a daily basis, and there will be new restrictions on junk food advertising both on TV and online. Restaurants and takeaway eateries will also be encouraged to provide clear calorie labelling to help parents and children make healthier choices when eating out. The sale of high-calorie, caffeinated energy drinks will also be banned.
Mr Hunt said that parents are appealing for help with making healthier lifestyle choices, and the updated plan aims to make it easy for families to live healthier lives.
The plans have been labelled "strong, robust and bold" by England's chief medical officer, Dame Sally Davies, and Public Health England suggests that the new measures will "turn the tide" on obesity.