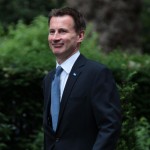 The Health Secretary, Jeremy Hunt, has announced plans to recruit an extra 21,000 mental health workers in a bid to bring mental health care in line with treatment provided for physiological health conditions.
Speaking about the new plans, Mr Hunt said that it was time to address the "historic imbalance" between services aimed at mental and physical health. The goal is to recruit extra members of staff so that the NHS can provide mental health care for an extra 1 million patients by 2021. The figure of 21,000 extra workers includes nurses, doctors and therapists.
News of the recruitment drive has been welcomed by many, but the Royal College of Nursing claims that more cash is needed to deliver on promises and suggested that the plans 'didn't add up.'
Mr Hunt confirmed that extra funding worth £1 billion would be used to fund the programme; the funding pot had already been allocated to mental health services before the announcement.
New proposals outline how the money will be spent, with the majority set to be invested in recruiting and training new members of staff with expertise in mental health care. The main focus of the scheme will be on children's services and care for adolescents, nurses involved in crisis care and therapists who are trained in providing talking therapies. Efforts will also be increased to bolster staff retention rates, improve the quality and provision of training and encourage medical staff who have left the profession to return to the service.
Mr Hunt has expressed a desire to recruit 2,000 more nurses, consultants and therapists to work with children and teenagers, 2,900 therapists to deliver talking therapies and 4,800 therapists and nurses to work in crisis care. There are also plans to improve access to mental health services for pregnant women and women who have recently given birth and to facilitate intervention for patients at high risk of episodes of psychosis.
Speaking shortly after it was revealed that thousands of nursing posts are vacant in the NHS, Mr Hunt admitted that it was an "ambitious" target, but insisted that the government was confident of delivering the changes by 2021.