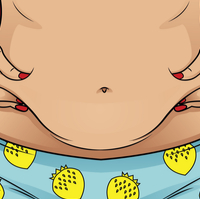 A new study has suggested that carrying leg fat is less harmful than belly fat for postmenopausal women.
Researchers in the US discovered that women who had excessive fat around their tummies had a higher risk of heart disease and strokes than those who carried fat on their hips and thighs. Furthermore, the study suggested that carrying fat here, rather than around the stomach, could protect women from heart disease following the menopause.
The research team analysed data from 2,600 women. All were aged over 18 at the time of the start of the study and all had a healthy BMI (18-25). The study, which was based on a major US women's health project, the Women's Health Initiative, began in the mid-1990s. Over the course of the following 18 years, the women underwent regular tests and checks to measure and monitor fat, bone and muscle mass and density.
The team found that women who were apple-shaped and carried weight around the middle were at higher risk of developing heart disease than those who were pear-shaped. Pear-shaped women carry fat around the hips and thighs and tend to have smaller waists. Women who had an apple body shape were three times more likely to develop cardiovascular disease.
This study, the findings of which have been published in the European Heart Journal, builds on evidence collected by researchers working on previous projects. It is well-documented that storing fat around the abdominal organs is more dangerous, but the reasons for this trend are unclear.
Lead author of the study, Prof Qibin Qi, from New York's Albert Einstein College of Medicine, explained that this study is different to others, because it involved women who had a healthy BMI. Previous studies have tended to focus on women who were overweight or obese. The findings of the study suggest that it's dangerous to carry weight around the middle even if you have a healthy BMI and you're not overweight. While it can be more difficult to lose weight in certain areas, Prof Qi recommends healthy eating and using targeted forms of exercise that blast belly fat.