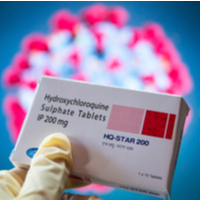 Researchers from the University of Oxford have suggested that a malaria drug, which has been touted as a possible treatment for Covid-19, is not effective.
There has been a lot of talk about Hydroxychloroquine in the press, most notably because President Trump admitted to taking it, but researchers have claimed that it is not an effective solution for the Coronavirus. Due to the study findings, the drug has now been eliminated from the UK Recovery Trial, which is overseen by the University of Oxford. The research has been passed on to representatives from the World Health Organisation.
Towards the beginning of the pandemic, when outbreaks were confined to China, there was hope that the drug could play a positive role in treating patients infected by the virus. Small-scale studies showed promise, but more extensive research has dampened any remaining optimism. As the drug is relatively cheap and it is already approved for treating malaria and lupus, it could have been a ground-breaking revelation. Unfortunately, there has been growing unease related to the use of the drug, which emerged as a controversial treatment as the pandemic developed and spread.
In light of the concerns about the safety and efficacy of the drug when treating Covid-19, the UK drug regulator asked researchers at the University of Oxford to share their data. In a trial of over 11,000 patients, 1,542 were given Hydroxychloroquine. The results of the study indicated that 25.7% of people treated with the drug died within 28 days. In the group not treated with the drug, 23.5% of individuals died.
Professor Martin Landray, who was involved in the UK Recovery Trial, confirmed that the drug was not a suitable treatment for Covid-19 and that trials related to Hydroxychloroquine had been stopped immediately.