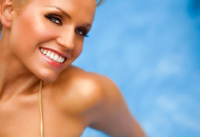 A beauty pageant with a difference was held recently in Budapest, Hungary with some unusual rules for its prospective competitors.
While most beauty competitions maintain that the girls who enter are all natural and have never had any cosmetic surgery carried out, the Miss Plastic competition is only for women who have gone under the knife, some several times.
In fact, contestants are only allowed to take part if they have brought letters from their plastic surgeon proving that they have had work done and detailing all their procedures.
The girls who make it that far are not only judges on their beauty, but also on the superiority of their plastic surgery, making it worthwhile for beauty queens to spend money on going to the best doctors.
The winners of the national competitions, which will also be held in other nations around the world, will then meet in the Miss Plastic Universe competition, to be held in 2011.
Contestant Timea Kertesz, 27, who has had buttock and breast implants in recent years, as well as other minor procedures, said: "It started when I was 17 and I persuaded my mum to agree to an operation to pin back my sticking out ears.
"I suddenly discovered I was much more confident and from that moment on I have never stopped improving what nature gave me."