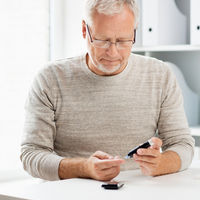 The NHS will offer a new 800-calorie-a-day diet to patients with type 2 diabetes following successful trials in 2017.
Thousands of people will have access to the low-calorie diet, which comprises soups and shakes. The hope is that sticking to the plan will reverse type 2 diabetes, enabling patients to manage blood glucose levels without the need for insulin. Last year, a pilot scheme was launched, and trials produced positive results. Around half of those who were involved went into remission after following the diet.
The diet restricts calorie intake to around 800 calories per day, which is significantly lower than the recommended daily intake for both men and women (2,500 and 2,000 respectively). The three-month plan contains meal replacement shakes and soups and is designed to combat the symptoms of type 2 diabetes and eventually, eliminate signs altogether.
In England, the NHS spends approximately 10% of its total budget on treating diabetes and its complications. Ninety percent of people in England who have diabetes have type 2 diabetes, which is heavily linked to lifestyle factors.
Initially, the diet will be available to around 5,000 patients, and they will have access to the meal plan, as well as advice and follow-up support.
Isobel Murray, from Largs in Scotland, is one of 298 people who were involved in the pilot scheme. Isobel lost more than 25kg during the trial period and she no longer requires medication. After 17 weeks of shakes and soups, Isobel was introduced to healthy meals by dieticians and initially, she said that eating solid foods was a struggle. The diet wasn't difficult to get used to, but Isobel said that she was fully committed to making changes and agreed that anybody who does have the opportunity to try the scheme should go into it with the determination to succeed.
National clinical director for diabetes and obesity for NHS England, Prof Jonathan Valabhji, said that the diet will not suit everyone, but it is clear from trials that it can be hugely beneficial.