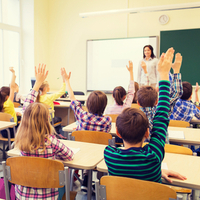 Schools in England are set to teach young children about menstrual health, consent, relationships and staying safe online as part of a curriculum shake-up, which is designed to better equip children for the challenges they could potentially face during their teenage and adult years.

By 2020, it will be compulsory for schools to follow a curriculum, which covers periods, domestic violence and abuse and staying safe on the Internet. Children will also be encouraged to spot the signs of anxiety in their friends. The curriculum in England will be LGBT inclusive.

The new guidelines have been welcomed by Alice Smith, a 23-year-old campaigner who suffers from endometriosis. Alice has been urging health ministers to include subjects like menstrual health on the educational curriculum for many years, and she described the move as "massive." Alice struggled at school, and it wasn't easy for her to talk about her condition. Endometriosis affects around 10% of UK women, causing them to experience symptoms such as fatigue, long-term pain and bowel and bladder problems. Talking about periods and conditions like endometriosis at school will make life so much easier for teens who experience difficulties and encourage both girls and boys to talk about what is normal.

Alice first started developing symptoms at the age of 12, and she has made it her mission in recent years to make sure young girls in a similar boat don't have to feel isolated or alone at school as a result of having endometriosis.

Sex education has been compulsory in English schools since 2017, but there has recently been a consultation on the subjects that should be covered. New guidelines suggest that children in England will be taught about relationships at primary school, with sex education beginning at secondary school. Alice is hoping that the new curriculum will encourage a more open environment for young people and prevent them from worrying about discussing topics or aspects of growing up that may have previously been viewed as embarrassing.