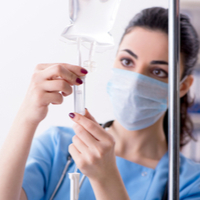 The UK is set to start trials on plasma treatment for patients affected by COVID-19.
Representatives from NHS Blood and Transplant (NHSBT) are contacting people who have recovered from the virus in a bid to recruit patients willing to participate in the treatment trial. Participants will be asked to donate blood in the hope that they have created antibodies. A major study is already underway in the US with more than 1,500 hospitals involved.
Antibodies are formed by the body's immune system when under attack from a threat such as a virus, in this case, COVID-19. After a period of time, the antibodies can be found within the blood plasma. Scientists are hoping to use the plasma from patients who have recovered from the virus to see if the antibodies can help to clear infections in others.
Initially, it is expected that those who come forward will donate blood for use in trials. Trials are required to test the efficacy, but most importantly, to ensure treatments are safe. If approved, the trials will investigate whether plasma can help to speed up a patient's recovery and reduce the risk of death. NHSBT is working with the government and health bodies to implement the testing processes as quickly as possible.
Similar projects are already underway in other parts of the UK, including Wales. University Hospital Wales has already revealed plans to trial the therapy, while Professor Sir Robert Lechler, president of the Academy of Medical Sciences and executive director of King's Health Partners, is also hoping to launch a 'small-scale trial.' Speaking about the treatment, Prof Sir Robert said that it could be used to treat critically-ill patients who don't respond to other methods. He is hopeful of seeing a small number of patients receive treatment in the next couple of weeks and expressed support for the NHSBT trial getting "into gear really quickly."
So far, in the US, around 600 patients have been treated using plasma therapy. Prof Michael Joyner, from the Mayo Clinic, suggested that early indications were positive, with no "major safety signals" detected and anecdotal evidence indicating that oxygenation improves with treatment.